Julayne Moser – Purdue University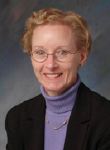 Julayne has long history of working with graduate engineering students, both traditional students and working professionals. She has been instrumental, in her work at Purdue, and in ASEE division activities in projecting a strong and positive view of professional and graduate education, the development of new incoming professionals in networking, and understanding that many times more learning can take place outside of the classroom and office.
Julayne has provided outstanding leadership and service to the CPD Division. "Getting things done" is one of Julayne's strengths and her legacy to the CPD Division. As a member of the CPD division she has served as a Chair-elect and Chair. Specific projects that the CPD board undertook during her tenure on the board are the revision of the division's by-laws and 'CPD Handbook' to provide reference and guidance to division and board members.
Going beyond the division, she served as General Conference Chair and Assistant Conference Chair for the Conference for Industry and Education Collaboration (CIEC).  She served as Secretary, then Chair of the CIEC Executive Board and has served as the Coordinator for the Corporate and University Sponsored Expositions at CIEC Conferences in 2004 and 2005.  As the CIEC Executive Board Chair, she coordinated and organized the search for a new CIEC Conference Registrar, and worked with other ASEE divisions in scheduling, and coordinating the CIEC Conference.Currently she is providing her leadership to the entire ASEE organization by serving as PIC V chair.
As her colleagues noted: "Her warmth and friendly demeanor has allowed newcomers to the field to believe they have a role to play in starting their contributions to the field of continuing professional development of engineers."
What was evident throughout each nomination submission was that Julayne embraced her roles within CPDD and has served each with the compassion and professionalism that inspired others to step up and serve.