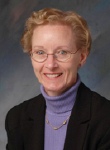 Director of Academic Affairs
Purdue University-Main Campus, West Lafayette (College of Engineering)
moser@purdue.edu
(765) 494-0213
Since 1994, she has been a member of the Continuing Professional Development (CPD) and the College-Industry Partnerships (CIP) Divisions of the American Society for Engineering Education.   As a member of the CPD division she has served as a Chair-elect, Chair, Secretary, and CIEC-CPD Program Chair.  During her tenure on the CPD Board, the board continued work to provide transparency of activities and accomplishments to division members, established on-going visibility on the ASEE web site, revised the division by-laws and 'CPD Handbook' to provide reference and guidance to division and board members, as well as maintaining a pro-active approach in outreach to members and potential division members.
Ms. Moser also served as General Conference Chair and Assistant Conference Chair for the Conference for Industry and Education Collaboration (CIEC).  She served as Secretary, then Chair of the CIEC Executive Board and has served as the Coordinator for the Corporate and University Sponsored Expositions at CIEC Conferences in 2004 and 2005.  As the CIEC Executive Board Chair, she coordinated and organized the search for a new CIEC Conference Registrar, and worked with other ASEE divisions in scheduling, and coordinating the CIEC Conference.
Ms. Moser has been instrumental, in her work at Purdue, and in ASEE division activities in projecting a strong and positive view of professional and graduate education, the development of new incoming professionals in networking, and understanding that many times more learning can take place outside of the classroom and office.  Through her activities in ASEE, she leads by example in establishing an atmosphere of inclusiveness, being proactive, and emphasizing the importance of a strong volunteer ethic.
She has a combined 20 years of experience with distance learning and graduate studies education at Purdue University, and is a Phi Beta Kappa graduate of Indiana University where she earned both her BA and MS degrees.
Seeking feedback, working with various schools, and divisions as well as understanding the complexities of multiple organizational structures and groups are Ms. Moser's strengths. As an active member and working within the divisions in PIC V makes her a strong candidate for the PIC V chair position.