Marty Ronning – University of Maryland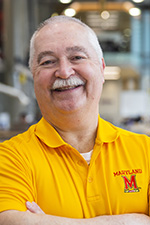 Marty is the Director of Instructional Technologies at the University of Maryland's A. James Clark School of Engineering. His office is responsible for providing the A/V technology for the Clark School's educational outreach mission. Marty has guided DETS through significant growth in enrollments every semester and the opening of a $3 million learning center.
Marty has provided outstanding leadership and service to the CPD Division. He has served on the CPDD Executive Board from February 2016 to present, and was very active in the Delivery SIG for many years prior.
Marty is a true believer in "getting things done" as the award criteria state. This quality can be seen in the specific details of his service to CPD. Serving as the SIG Delivery Chair, 2011-2016, Marty started the forward-thinking virtual tours program aptly titled "PEER-ing In from the Outside", which provided our membership with in-depth, live interactive video tours of many of our top peer institutions' online production and delivery studios. These tours still exist as on-demand videos hosted at Marty's institution. He characterized these complex video events as "a conversation among friends". This was his strategy for keeping the interactive nature of the tours informal. However, he knew that these tours would be a point of pride for the host schools and the high quality of these events became a collective point of pride for our entire division.
He has a "talent for working with people," an additional criteria for this award. It is one of his strengths and a legacy to the continuing professional development of engineers. A personality that can fill a room, Marty is always promoting collaboration and sharing best practices. His word is gold and one can count on his follow-through. He was an outstanding Division Chair because of his winning personality and absolute confidence to deliver on every promise.