Dr. James "Keith" Plemmons, PhD, PE, PMP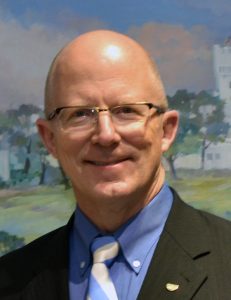 Keith Plemmons has had a progressive career, including ten years of military and government service, ten years of EPC industry work, and seventeen years in higher education. He has been attending CIEC since at least 2002. He has given numerous presentations at both CIEC and ASEE Annual meetings. He has most recently provided outstanding leadership and service to the CPD Division through his tenure as the division Chair-Elect in 2018 and has served on the board since then. Not only did he progress through the 2 years as Chair and now being the Past Chair, but he also served as our program chair for ASEE National for both 2020 and 2021.
Before engaging with CPD he was active in the Southeastern Region of ASEE and as the award criteria states he is a true believer in "getting things done". This quality can be seen by how he managed to keep the CPD members connected during the pandemic by hosting board meetings remotely to keep the division on track. Those who have interacted with him can attest to his "talent for working with people". He is a veteran educator and business leader with over 40 years of executive, functional, and project management experience in the engineering, construction, and education arenas. His work experience encompasses the entire lifecycle of capital projects and providing technical services and workforce development. He pursues his passion of building people who deliver value and service to their communities.
After completing his BS in Engineering at the Citadel, he completed his MS and PhD at some "non-Terp" school called "Death Valley" SC. Despite that, he has a winning personality and absolute confidence to deliver on every promise. His word is gold, and one can count on his follow-through with warmth and sweetness. Besides his warmth and friendly demeanor in his professional work, his demeanor at CIEC and other CPD events have allowed newcomers to the field to believe they all have a role to play in starting their contributions to the field of continuing professional development. If there is any hesitance to approaching him professionally, feel free to ask him about his Apiary as he and his youngest daughter are both South Carolina Certified Beekeepers.