Secretary (2020-2022)
Director of Academic Affairs
Purdue Online-Engineering, Purdue University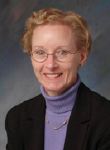 Julayne has been a member of the Continuing Professional Development (CPD) since 1994, and has served in several officer positions on the CPD Board. She has also served as General Conference Chair and Assistant Conference Chair for the ASEE Conference for Industry and Education Collaboration (CIEC) in 2011 and 2012. She served as Secretary, Chair of the CIEC Executive Board and has served as the Coordinator for the Corporate and University Sponsored Expositions at CIEC Conferences in 2004 and 2005. As the CIEC Executive Board Chair, she coordinated and organized the search for a new CIEC Conference Registrar, and worked with other ASEE divisions in management of the CIEC Conference.
Julayne has a combined 35 years of experience with distance learning and graduate studies education at Purdue University, and is a Phi Beta Kappa graduate of Indiana University where she earned both her BA and MS degrees.